Important Dates
To Sign up for any of our classes please click here to email me or call 816-229-2189 .
2018 EVENT CALENDAR
If you have a group of 4 or more and wish to take a workshop call for dates. 816-229-2189
My phone number is 816-229-2189 or click here to email me.
Welcome to Wooly Woolens...
Located in a country setting close to Kansas City and historic Independence, Missouri. We are your local source for custom dyed wool, patterns, supplies, workshops and hooking camps.

History of Wooly Woolens....

About 10 years ago I walked into Liberty Quilt Shop and saw something on the wall I dearly loved and had no idea what it was…I just knew it was wonderful.

After inquiring about the project I found out it was a hooked rug. I really don't remember ever seeing one before that day. I think any of us who are rug hookers can say we truly became "hooked" at one time or another.


I had taken many penny rug classes from Lynn Hosford and knew I was addicted to wool from the start, but making loops and creating a wool rug was all new to me. I took my first class with Emma Lou Lais and would have to say she has been the main influence in my learning to hook and color planning. I am grateful to her for the inspiration and instruction she gave me in dying wool. I love to put the dye pots on to create a new color, or age an existing color for use in my rugs.

I really never intended to teach. However, upon the encouragement of my husband Jim I am where I am.
The Studio...Located in Historic Independence, Missouri

We opened Wooly Woolens in 2000 and added the new studio in 2005. It's really been a joy to teach classes and meet new people.

Upon the prompting of Jim, again, I am launching this web site with the hope that you will see something that you will want to hook. I especially enjoy planning a new rug with the maker's influence. For that reason, I do not make kits, but am happy to work with you in the studio or over the phone to acheive an heirloom for your own home. I invite you to visit the Wooly Woolens Studio and share my love of wool, color and design. Please call for an appointment at a convenient time for both of us.
Shirts now available!!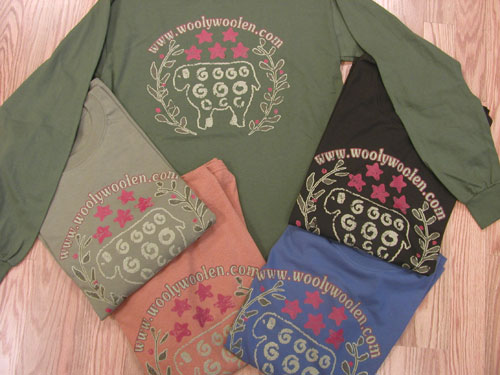 100% PreShrunk Cotton
Medium/Large/XL
Come by to get yours now!
PATTERNS:
All patterns are available for purchase. Purchased patterns do NOT have the copyrighted watermark.
Wooly Woolen Originals

Inspired by Quilt Designs
of Linda Brannock

Jo Morton Design